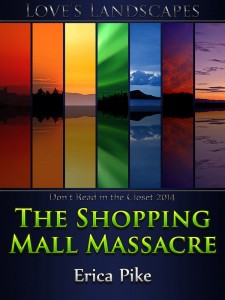 PHOTO DESCRIPTION:
Two college-aged guys stand in a hallway with their shirts tied at the back, revealing their stomachs. One has his hand on the wall, leaning over the second guy with his other elbow on the second guy's shoulder as if he's about to kiss him. The second guy's body is leaning toward the other's, but he's looking at the camera with "joke" written all over his face.
STORY LETTER:
Dear Author,
Here are the thoughts from the guy on the left about the guy on the right (facing camera):
He's just joking. I know he's just joking. But I'm not. I want to shove him into this wall and stick my tongue down his throat. Then I want him to turn us around and shove me into this wall, hard. I want his hands, his mouth, something on my body. Now.
Holding myself back is killing me. So is wanting him.
Here are the other details on what I would like to read:

1. I know you'll think contemporary because of the background of the image, which is okay, but I'd really prefer futuristic, post-apocalyptic, alternate universe, or sci-fi. (Not historical or steampunk, though.)

2. I'd like for the image to be inspiration for the characters, but not the setting. Be creative with the setting. Please choose a setting other than some sort of academy or university.

3. These two are not best friends from growing up together, nor enemies/competitors toying with each other; they met within the past year or so, somehow, so they're still relatively new to each other.

4. No insta-love, please, even if you decide there's some sort of soulmate principle in play. (I'm totally good with soulmate setups, if you want to go that way. Just make them work for it. It's not a required element, though.)

5. Plot and characters are more important than sex. Sex is not required; romance is.

6. If you want to add paranormal, fantasy, or magical elements, I'd prefer it be something other than vampires, shapeshifters, or elves. Think outside the box. (Alien is good.)

7. Anything else is fine. You don't have to ask me about BSDM, dub-con, non-con (or other trigger warnings), HFN instead of HEA, tentacle sex, ménage, etc. Just go for it. =)
Thank you!

Adara
STORY INFO:
Genre: post-apocalyptic
Tags: zombies, sweet/no sex, survival, young adult characters, coming out, coming of age, HFN
Content Warnings:  graphic violence, blood and gore
Word Count: 15,419
EVENT: Love's Landscapes
The Shopping Mall Massacre on Goodreads
The author has elected to not have ebooks
Review The Shopping Mall Massacre on Goodreads