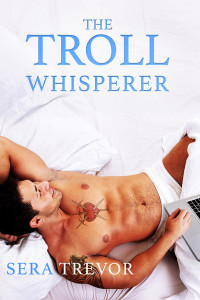 PHOTO DESCRIPTION:
Photo 1: A macho guy with black hair and a scruffy face stares derisively into the camera. He's wearing a tank top that shows off a couple of tattoos and a nice body. His mirrored sunglasses make it hard to tell if the expression on his face is a malicious sneer or a mischievous smirk.
Photo 2: A nice-looking young man wearing a jean jacket. He has soft brown hair and soulful brown eyes, which are directed bashfully away from the camera.
STORY LETTER:
Dear Author,
People who don't know me tend to think I'm arrogant, and the ones who do, think I'm a bastard. I just like to think I'm making the most out of life.
A while back a friend of mine showed me some videos on YouTube made by these people who pretended to be doctors and nurses and kept whispering. And yeah, I did some extensive trolling, which I think is perfectly normal.
Imagine my surprise when I realized that my new next door neighbor is the same guy as on the videos. Aside from being a weirdo he's kinda hot and I'd like to have a private relaxation session with him.
So, I'll just play nice long enough to get in his pants, because that's all I want. And the trolling? There is no way he'd ever find out about that and it wouldn't matter anyway, because it's not like I'm falling for the guy.
Right? Right.
~~~~~~~~~~~~~~~~~~~~~~~~~~~
I just moved into my first apartment. After leaving Jehovah's Witnesses I've been on my own. Becoming an ASMRtist has helped me with that and I love making YouTube videos.
Because of my background I've never had the chance to do that, especially with another man.
My next door neighbor seems nice and I think he could be a part of my new life.
No cheating/other partners, no paranormal.
Sincerely,
Mah
STORY INFO:
Genre: contemporary
Tags: blue collar, dirty talk, humorous, first time, toys, multicultural, hurt/comfort, drug and alcohol addictions and use, emotional growth
Word Count: 39,838
EVENT: Love is an Open Road
The Troll Whisperer on Goodreads
ePub | Mobi | PDF
Review The Troll Whisperer on Goodreads