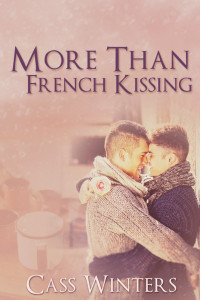 PHOTO DESCRIPTION:
Two young men lie kissing on a cobbled street. They're surrounded by unfinished artwork and coloured pencils. A red Fiat 500 with the driver's door open faces a cream moped. A helmet is discarded on the ground beside them.
STORY LETTER:
Dear Author,
Please can you help these guys get to this picture?
The story is up to you, but please try to include the following: a love of scarves, Europe, some drama, hot sex and humour.
We would really like to welcome and invite a new writer to tell this story.
Sincerely,
Al and Noah
STORY INFO:
Genre: contemporary, new adult
Tags: college, coming of age, Europe, frottage, second chances, travel
Word Count: 14,522
EVENT: Love is an Open Road
More Than French Kissing on Goodreads
ePub | Mobi | PDF
Review More Than French Kissing on Goodreads