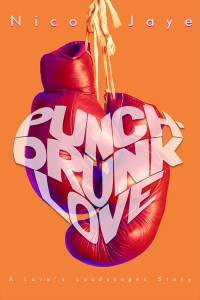 PHOTO DESCRIPTION:
An artistic black-and-white photo. Although they face away from the camera, two handsome young men look over their shoulders at the viewer, their expressions reflecting surprise. They're naked, their bodies muscular and toned. The man on the left is slightly taller, his wavy dark hair complemented by the other man's short blond hair. The spacious training studio's hardwood floor shines underneath their bare feet, and sporting goods, including numerous stationary strike bags, line the perimeter.
STORY LETTER:
Dear Author,

Umm, our entire kickboxing team just walked in on us. I think we're OUT now.

Sincerely,

♡♥Ang *Miss Directed*♥♡
STORY INFO:
Genre: contemporary
Tags: sports, athlete, college, geeks/nerds, public activity, kickboxing, humorous, costumes, Vegas, lots of fluff
Word Count: 16,200
Author's Note
A big thank you to the M/M Romance Group for hosting this awesome event. Thanks also to Ang for providing the inspiring letter and to Natasha for sharing her incredible talents in creating such a fun cover. This story is dedicated to all of the smuff lovers out there who like their fluff with a side of smut. 😉 Thanks for reading!
EVENT: Love's Landscapes
Punch-Drunk Love on Goodreads (NSFW)
ePub | Mobi | PDF
Review Punch-Drunk Love on Goodreads