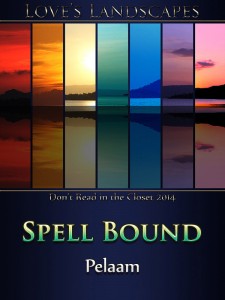 PHOTO DESCRIPTION:
There is a group of young men, well dressed in greys and blacks, but one stands out from the crowd. Unique, powerful, graceful, his aura sets him aside from the others. They mill together, nervous and excited, outside a three-floored mansion.

The mansion calls itself a centre for holistic studies, but the locals regard it differently.
All who attend there are branded as witches.
STORY LETTER:
Dear Author,
There's a group of young men standing nervously outside the old mansion, but there is one that draws my attention, like a beacon of light among the crowded masses of grey, black and leather clothing.
But his light is dark, mysterious and ensnaring. I cannot avert my gaze as desire scorches in my veins, even though my mind tells me; he is of them, belonging to that strange cult and the black house with its secrets and dark sounds.
"Witches," the townspeople whisper. "Born devil spawn, they are."
But witches aren't real and I'm a Dom. I take what I want and who I want, and I want him, like I need air in my lungs.
I will have him collared, kneeling and begging for my touch, but I cannot help feel that this strange attraction for the beautiful creature goes deeper than lust, stronger than desire, and it will be the end of my reign as the Alpha Dom.
"I shall have him," and yet at those words the radio starts playing: "I Put a Spell on You" by Creedence Clearwater Revival.
Sincerely,
The Wulf

STORY INFO:
Genre: paranormal, action/adventure
Tags: BDSM, demons, soulmates/bonded, male witch
Content Warnings: off-page abuse of secondary character
Word Count: 17,156
EVENT: Love's Landscapes
Spell Bound on Goodreads
ePub | Mobi | PDF
Review Spell Bound on Goodreads