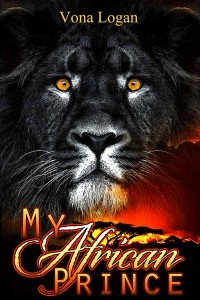 PHOTO DESCRIPTION: 
A handsome African tribesman stares straight at the camera with light-coloured eyes, fierce, smouldering, and intense. Long, thin, braids hang down his back, and his ears and neck are adorned with tribal jewellery. Lush lips form a slight pout and dark stubble shadows his jaw. The second man is tall, broad-shouldered and muscled – he sure looks capable of fulfilling the dark needs in the first man's eyes.
STORY LETTER: 
Dear Author,

I am supposed to be content as a lion. A prince and heir of our pride. We are a fierce, strong, and unique pride of black lions. Humans think it is because of melanism but what they don't know is that we are shifters. All of us.
But Author, that is not my dilemma, HE is my dilemma. That gorgeous, delicious, man over there. I have never seen someone with his skin tone before. And while he doesn't smell like a lion, he also doesn't smell completely… right as a human either. And even more than that he makes me want to give in to my secret, darkest desire, to submit, to be mounted by someone else, to be filled.
I am a prince! The heir of my pride! I am supposed to submit to no man or woman! And yet, with this man? All I want to do is beg him to take me and even more than that… to love me. Even though it may get me killed by my pride.
***Free reign with this except one MC MUST be a black lion shifter and the other must be if a different race (and species-he can be an alien with tentacles for all I care, have fun with it! Just not a lion).
Thank You, Author. 

Sincerely,

Vic
STORY INFO:
Genre: paranormal
Tags: cat shifters, interracial, interspecies, 2 alpha males, soul mates/bonded, outdoor sex, rimming
Word Count: 22,195
EVENT: Love's Landscapes
My African Prince on Goodreads
ePub | Mobi | PDF
Review My African Prince on Goodreads